Since March of 2009, myself and a group of like minded comic enthusiasts have been meeting each month to discuss a book that has been picked by a member of the club to be read that month. We have read and discussed a variety of titles including; Watchmen, Preacher, Daredevil - Guardian Devil, Superman - Red Son, Judge Death - Boyhood of a Superfiend, Bakuman, A Right to be Hostile, GI Joe vol 1 and Neverwhere.
I would like to invite you all to join us, either physically each month if you live in the Kettering area and can attend the meetings, or virtually via this blog by reading the chosen book and voicing your opinions in our comments section. Each month I will post our thoughts on the pick as well as posting the name of the next months book.
This months pick...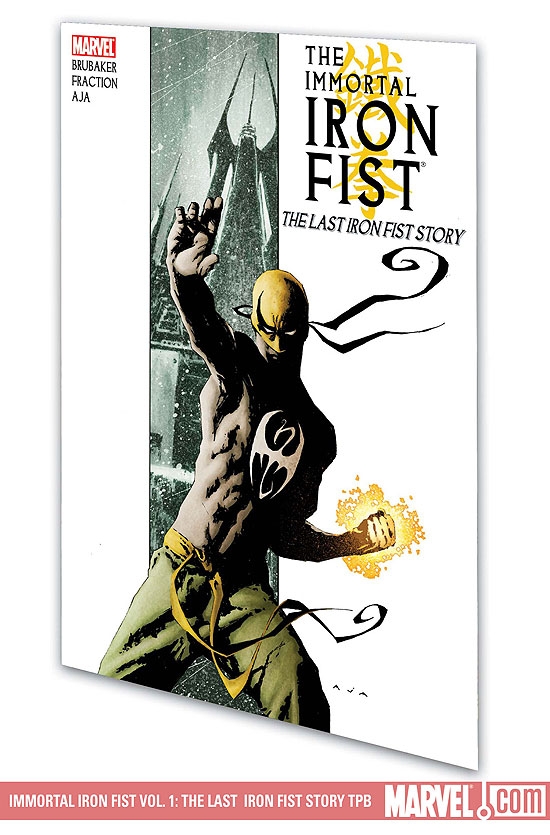 THE IMMORTAL IRON FIST vol 1 - THE LAST IRON FIST STORY (w) Ed Brubaker & Matt Fraction (a) David Aja
A kung-fu superhero story set in the Marvel Universe, Danny Rand, The Immortal Iron Fist, always believed that he was the one and only bearer of the mystical power of Kun Lun, until Orson Randall arrives on the scene with all the power and double the experience. Who is he? Why does he posses the same power and Danny? How can there be two Iron Fists?
Our thoughts on the book...
Mario
- I really enjoyed this book. It is an amazing blend of Super Heroics, crime noir, 70's Kung-Fu and Blaxploitation. I am a huge fan of Brubaker's work and even though I find Fraction to be hit and miss, I dug the hell out of this collaborative effort. David Aja's artwork is joyous to behold and his panel layouts are exciting and dynamic.
I have read the entire run of this book and as great as this volume is as a jumping off point, it just gets better and better as the books roll on. For that reason and that reason only, I will give this particular volume
7/10
Martin
- The Immortal Iron Fist Vol. 1 is a very straight forward tale. There are no major surprises, no plot twists and nothing truly original within the story. This is what makes the book worth picking up.
Having a simple plot allows the book to showcase the real gold doubloons of this absolute treasure; the action! The set pieces for the fights are something to behold, with every punch, kick and headbutt lovingly detailed and presented superbly. The art also compliments the story, showcasing a different look whenever a different time period is presented.
Character development takes a backseat slightly, however the relationship between Danny and the other characters keep things interesting.
All in all, expect no story that will revolutionise or make you question your life. It's a straight shooter, slapping you in the face with awesome action scenes with nearly every page. If action movies or kung fu is your thing, then The Immortal Iron Fist may be for you.
8/10
Lee
- The Immortal Iron Fist - The Last Iron Fist Story, seemed promising, a super hero who uses martial arts to fight droves of Hydra soldiers. But reading through I see there was little martial arts being shown, more of just 70's action movie violence. The plot is almost non-existent in this first volume and can only hope it assembles in later volumes.
- Was expecting technical martial arts and got kicked in the face.
- The overall plot to the entire Last Iron Fist story sounds very intriguing but volume 1 is a very poor start.
- Despite its flaws it can still be an entertaining comic to look at.
5/10
James
- I enjoy Iron Fist as a character,I enjoy the idea of there being multiple ones throughout time who used the powers differently. I'm just not fond of extending his powers for no real reason.
7/10
Alex
- One of my favourite series I've bought since I started reading comics, there is a lot I really like about this - really nice art, a really unusual sort of tone and setting for superhero comics with pulpy and kung fu cinema influences. Its not necessarily an expression of high-art but I don't think all comics should be - its a well drawn and fun adventure story done well. Also the covers are really striking and unusual compared to the standard superhero fare.
As others pointed out, it does have its problems: plot is a little choppy, doesn't really introduce the character fully for new readers and the plot is fairly light but I found that fairly minor compared to the overall experience.
8/10
Megan
-
- Good art
- Would have perhaps been better if the main character was a bad ass Asian (given the Asian setting) rather than an adopted rich western guy.
- I don't really know much about the background of the character and that particular volume didn't round it up enough for me.
6/10
Lainy
- I'm not sure if it was just the kung fu style (because I have no idea what that would look like) but I found the entire book very scattered and confusing. the way the story kept jumping between different characters in the past and the present day made it difficult to follow. For example how did it go from "I want to buy some train tracks" to you have go and fight an epic battle in heaven to save mankind! WHAT? just stupid!
I found the present Iron Fist to be a ridiculously shallow character, yet another over-privileged emo ass who thinks he knows everything just because he's rich. we already have Batman for that and he does it with way more style.
My last point on this is that bringing in a former incarnation of the same character is lazy storytelling, was completely unnecessary in this case and has been done to death. I'm giving it a
4/10
Louise
- Really liked this book as an introduction having not read Iron Fist previously. The graphics were really nice and well suited to the story. I think it's only downfall was the lack of explanation as to who characters were but that said there was more than enough to keep me interested and be intrigued to read more! Pretty solid
7/10
Frankie
- Have borrowed the rest of the series from Alex - really enjoyed the 1st book - I don't mind that you don't know all the constituent parts and stories - I'm kind of used to not knowing what is going on as Book club jumps us all over the place with books! It's art work is really kinetic and I like the muted colour palette.
9/10
So there you go. This is what our club members thought of The Immortal Iron Fist volume 1. Please leave your comments in the box below to give us your two cents or if you live in the Kettering area, why not pop along to our next meeting on the 20th of August (message me for more details). Next month
is the 50th Birthday of our Friendly Neighbourhood Spider-Man, so to celebrate we are throwing him a Book Club Birthday Party. Each member will read and give their thoughts on a different Spider-Man book. So show your love for the web slinger, read a Spidey book and give us your thoughts next month!
M X